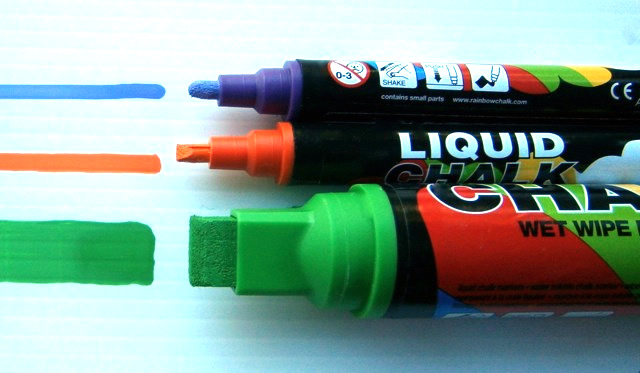 Get the best results from your Rainbow Liquid Chalk Marker Pens.

Use on
non-porous surfaces
blackboards
whiteboards
glass, metal
sealed ceramic tiles
perspex
laminated surfaces
enamel painted surfaces
galvanised tin
mirrors
or any sealed surface.
Shake the marker pen vigorously before each use until you hear the balls shake free, then continue to shake for several minutes until all contents are mixed thoroughly.
First prime the nib for use
Carefully pump and rock the nib on paper to release the Liquid Chalk until liquid has covered the nib. Do this at right angles to the ground and away from the writing surface to avoid dribbles and smudging. Continue working on paper until the pen writes a satisfactory line. Re-saturate the nib as necessary by repeatedly depressing the nib onto the upturned cap of the pen.
Do not touch writing for five minutes at room temperature. Always allow adequate drying time if placing boards out in wet weather. Chalk will be rainproof after one hour.
To remove chalk, simply wipe over with a damp cloth.
General Tips
When writing on rough or more porous surfaces, for example gritty blackboards, wipe the surface with a damp cloth, thus leaving a damp film of water, which will allow the pen to flow more easily.
Keep nibs and tops of pens clean. Wipe with a clean tissue after use.
Pen nibs can become ragged when used on rough surfaces. The felt nibs can be removed and reversed. If the nibs become clogged they can be removed and washed in clean water, dried and replaced.
Use a little household cleanser if ghosting occurs on some surfaces.
Store pens on their side or upright with the cap to the top.
Always ensure the cap in on tight.
For further issues contact orders@liquidchalk.com.au
Or phone Geoff on 0413 057 921